With new riders having trouble booking rider training and M2 tests due to the pandemic, Mitch has launched a new online app to help M1 licence holders get insured and get on the road in 2021! The first of its kind in Canada, the app will deliver accurate quotes in as little as 4 minutes, and allow you to buy the policy, all online.
The reality of being a new motorcycle rider in Ontario is that most insurance companies won't insure you until you are fully licensed (M class license). So given that M1 riders are experiencing delays booking rider training and M2 tests because of COVID-19, it's likely that your only option for riding in 2021 is to get insurance from Facility Association.
To help new riders get on the road, Mitch has built an online app for M1 riders that is the first of its kind in Canada. Get an accurate quote from Facility Association in minutes, and get insured today with just a couple clicks. No phone calls, no hassles, just the open road.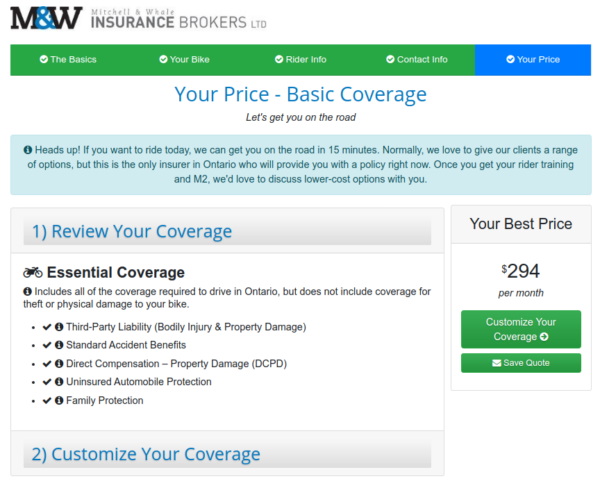 At Mitch, we love all bikes and we love all bikers (aka motorcycle enthusiasts), and we guarantee that as long as you have at least your M1 license, we can get you insured and on the road within a day. Of course if you're an experienced rider, you can call one of our brokers and they will get you competitive quotes from some of the best motorcycle insurers in the province. But if you're just getting started, you can save the time, avoid the hassle of calling around, and get the only quote you need online.
The cost of insurance as an M1 rider
Depending on where you live, how old you are and whether you have tickets on your driving record (yes, they count those), you will be paying anywhere between $3,000 and $10,000 a year for insurance with your M1 license. The benefit of getting your M1 insurance from Mitch today is that a) You'll be able to enjoy the 2021 riding season; and b) We'll shop for better rates for you when it's time to renew next year, so long as you get your M2 in the interim. As one of the top motorcycle insurance brokers in the province, we have access to the best motorcycle insurers, and they'll be happy to insure you once you get your M2 license.
Don't forget rider training
There's not much you can do to save on your premiums as long as you're riding with your M1. But whenever you're planning to get your M2, you'll see considerable savings (probably next year) by completing an approved rider training program.
No, you can't save money by cancelling your insurance in the winter
If you're thinking that you can buy insurance now with your M1, then cancel it and get cheaper insurance in 3 months with your M2, don't count on it. The way that motorcycle insurance is priced in Canada is such that you pay 90% of your premiums for the 6 months when you're most likely to ride. Cancelling after the riding season is not likely to save you much at all, and penalties may apply, so you may actually lose money in the exchange. Your best bet is to wait until your renewal next year.
M1 insurance FAQs
How much does M1 insurance cost?
M1 riders in Ontario typically pay between $3,000 and $10,000 for motorcycle insurance. Go to our online
moto quoter
for your price.
Does it matter what style of bike I have?
No it doesn't matter. Rates are based on your age and the CCs of the bike. We can even insure super sport motorcycles.
Will my rate go down once I get my M2 and rider training?
No,
Facility Association
, which is the only company that insures M1 riders without rider training, only sells policies for a year, and they will not adjust your rates mid-policy if you get your M2 and rider training. Cancelling is not a great option either because of the way that motorcycle insurance premiums are split up unevenly by month. We will work with you next year to see if we can get you a better price with your M2 when your policy renews.
Can I just cancel when I get my M2 with rider training?
Get an insurance quote on Ontario M1 motorcycle insurance.
Speak with a Mitch Insurance broker today to get a quote on Ontario M1 bike insurance. Get a quote>
Call now
1-800-731-2228