Why doesn't the brokerage that won innovator of the year and brokerage of the year use online quoting tools?
What's Wrong with Online Auto Insurance Quotes? $220!
We live in the age of online. You can fill a prescription, design your own business cards or get a four course meal delivered, all without talking to a soul. It makes sense then that many Canadians now prefer to get their auto insurance quotes online, and there are lots of options available to them when they do.
If you prefer to get competitive quotes, there are lots of broker websites and online comparison sites that will let you enter your information yourself, click 'Submit', and get 2, 5, even 10 different quotes to choose from.
So What's the Problem?
To be blunt, the problem is that when you enter your information for an online auto insurance quote, the premium you see online is ALMOST NEVER THE PREMIUM YOU'LL END UP PAYING.
At Mitch, we don't have an online quoting engine on our website, but we did for a little while. We stopped using the online quotes because we found that our customers would get frustrated when they got one number online, then got another number after talking to a broker. Our customers seem to prefer to get the right quote the first time. Go figure!
Important note: Not one broker or comparison website allows Ontario residents to actually BUY auto insurance. If you like one of the quotes you get online, you have to call the broker. That was also the case when Mitch had online quotes. The insurance companies insist on this because they want someone to confirm that the information given is accurate.
Why Are Online Quotes Inaccurate?
To understand why quotes are inaccurate, we first need to understand a few basic facts about how auto insurance works in Ontario:
Insurance companies that want to sell auto insurance in Ontario need to file their rates with the Ontario government. For every possible combination of coverage, vehicle and driver profile, that company can only charge the price that was approved. Not a dollar more or less. If they do, they're breaking the law.
A company called 'Applied' (formerly Compuquote) has built a system which includes all the different combinations of insurers' pricing. It's essentially a system built to help brokers calculate the prices from all of their insurer partners as efficiently as possible. This system is only available to brokers, and provides reliable quotes.
Every broker in Ontario that you speak with to get auto insurance quotes enters your information into Applied. They get months of training in how to use Applied to get an accurate quote.
Because Applied is very complex, the general public doesn't have access to it.
The online comparison sites, and brokers that give quotes online, use systems that connect to Applied, but that are meant to be much simpler and more user-friendly. Unfortunately, in making the online questionnaire simpler, a lot of very important details are lost, and the quote you get is an approximate quote, that then has to be verified by a broker.
How Inaccurate Are Online Quotes?
We knew that our customers were getting frustrated when we had online quotes, but in order to see just how bad the online quotes actually were, we went undercover (sort of), and tried to get online quotes, for an imaginary driver, from 20 different sources, including broker websites and online comparison sites.
Here is the driver and vehicle profile we used:
Gender: Male
Age: 50 (Born Jan 1, 1969)
Postal code: M1M 2T2 (Toronto)
Licensed since: Age 16 (Jan 1, 1985)
Continuous insurance since: Age 16 (Jan 1, 1985)
With same insurer since: 2010
Tickets: none
At-fault accidents: none
Previous cancellations: none
Vehicle: 2018 Chevy Impala LT V6 4-door, bought new (financed)
Winter tires: Yes
Daily commute to work: 0 km
Kilometres driven per year: 8,000
Coverage: All mandatory coverage, $1 million liability, collision, comprehensive, loss of use, liability to non-owned autos, accident forgiveness, $1,000 deductible where applicable
So we'd have a benchmark of accurate quotes to compare to, we asked one of our brokers go straight into the Applied system and get quotes for that same imaginary driver. Here are the actual prices that this customer would pay:
Examples of Insurance Quotes Using the Applied Quoting System

| Company | Premium |
| --- | --- |
| Aviva | $2,312 |
| CAA | $1,480 |
| Chieftain | $2,808 |
| Echelon | $4,436 |
| Facility Association | $5,095 |
| Gore | $1,828 |
| Intact | $1,876 |
| Pafco | $5,918 |
| Pembridge | $1,734 |
| Portage | $1,982 |
| RSA | $1,895 |
| SGI | $1,895 |
| Travelers | $2,716 |
| Unica | $2,318 |
| Wawanesa | $2,353 |
When we tried to get quotes for that same profile online, here's what we found:…
For the 15 companies that we had accurate quotes for:

We were only able to get an accurate quote online for one. Facility Association. That's not likely to help you.
Other than Facility, the discrepancies between our guaranteed accurate quotes and the online quotes for the other 14 companies ranged from $3 a year (not bad…) to $715!
The average quote we got online was off by $220.
About ¾ of the online quotes were lower than the actual price you would end up paying.

We saw some other things that made us question the accuracy of the online quotes:

We got online quotes for some companies that in reality would not have been able to offer insurance. That means that the quote received online is actually not available for purchase!
Here's a graphical representation of the discrepancies in the quotes: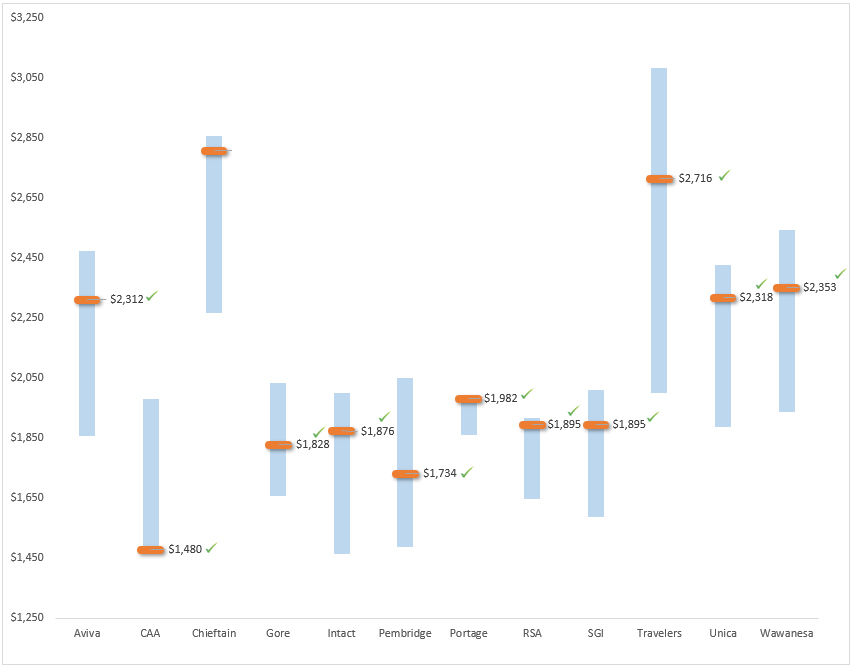 The orange line is the accurate quote.
The blue bar represents the range of quotes received online for that insurance company.
Echelon, Facility and Pafco are excluded because they are high-risk insurers that charge much more than the average for drivers with a clean record.
Some Factors That Lead to Bad Online Quotes
There are a number of factors that can lead to getting an inaccurate quote, whether it be online, in person or by phone, email or text.
Specifically related to this exercise, it's important to note the following factors that could have led to inaccurate quotes:
Not all the sites ask for the same information in the same way. For example:

Some ask you to enter how many km you drive per year, while others make you pick a range (e.g., 0 to 5,000 km, 5,000 to 10,000 etc.). This was challenging for our chosen profile because some sites have a range from 0 to 8,000 km, and our accurate quote was based on exactly 8,000 km.
Some ask you at what age you got your licence, and some ask for a specific date

Not all the sites let you pick the coverage:

Some assume basic coverage (no collision or comprehensive)
Some assume a $500 deductible
Some assume $1 million liability
Some even assume you're going to bundle your auto and home insurance

(If the site allowed us to modify the coverage, we did.)

Lastly, it is possible that we were the reason for some of the inaccuracy, by entering something incorrectly when getting the online quotes. (To protect against this possibility, whenever the discrepancies were particularly big, we re-started the quote from scratch to make sure.)
Conclusion – Get the Right Quote the First Time
It seems that competitive online quotes are meant more as a marketing tool than anything. Based on our experience, there is very little chance that you'll get a competitive online quote that you can actually turn into a real, honest-to-goodness insurance policy at that price. It's possible that for other driver profiles, the accuracy rate could be better, but we did try one other profile (35 year old female in Peterborough), and our findings were more or less the same.
We have no way of knowing whether companies that sell direct to the public offer accurate online quotes, but even if they do, you're not getting a full picture of the rates that are available to you, just that company's price.
Mitch went away from online quoting because it didn't work for us and it p*ssed off our customers. If you like the idea of browsing without having to talk to anyone, then go ahead and try it, but understand that what you see is going to be AT BEST a guideline of what you might pay. You'll have to call someone and answer all the questions again to actually get insurance, probably at a higher price.
If your goal is to get the best price for the least amount of effort and time, just call or email a broker in the first place! Mitch is one good option .