Insurance Business Canada, one of the insurance industry's trade magazines, has recently published its fourth annual ranking of the Top Canadian Brokerages.
Drum roll please… Mitch takes the third spot. In the Olympics of insurance, that equates to a podium win.
It's also the fourth time in a row Mitch has been in the Top 10, four out of four! Some might say we're on a roll, garnering several other awards and nominations in the past three years and experiencing double digit growth. Come to think of it we have had 10x growth in the last 10 years
Is there a correlation between industry recognition and success? More importantly, how does it translate to you, our loyal customers?
1. A Great Team
We don't have employees, we have team mates. A team with different specialties and different strengths all working together to achieve one goal. To make insurance something you never have to worry about. Our Mission is "To make insurance not Suck!".
The best part about growing the business is adding more great team mates all the time. Not only do we aspire to be the best place for you to buy your insurance in Canada, we want to be the "best place to work" in the industry.
2. Better Selection
While the average bank or direct writer only have one product option for you, and the average broker have 4-5 insurance companies, we are now up to 44 insurance companies. It can be a handful to manage that many products and companies but it's important to us to have the best products and most options in the market for our customers.
3. Better Rates
We already boast the largest selection of insurers in Canada, forty-four, and we like nothing better than to make them sweat for your business; but that's not exactly how it works for most of personal insurance. With each insurance company setting their own rates, which vary between insurers, representing forty-four different insurance companies means we have more options to find you the best rate for your insurance needs.
4. More Innovation
It's no secret our president, Adam Mitchell, is cut from a different cloth than most CEOs. You can't blame him, he's a former kiteboarding entrepreneur who came into the business when his father took ill. Stay tuned for the biography: From board shorts to boardrooms.
That also means he's creative and open-minded, looking critically at what can be improved and where insurance should be going. He gave birth to our Mission: To Make Insurance Not Suck! Thanks to our restless mindset of never settling for 'good enough', Mitch has become one of the leading digital brokers in Canada, putting aside the baggage and old way of thinking, and blazing new trails into a world where insurance doesn't suck for Canadians.
5. More Fun
We're a long way from Silicon Valley, yet Adam's Whitby Valley is making Mitch the biggest draw for young and ambitious brokers. Why? Picture brand new offices, with a Nerf gun wall, hot dog roller, basketball court, putting green, golf simulator, gym, and keg/wine fridge.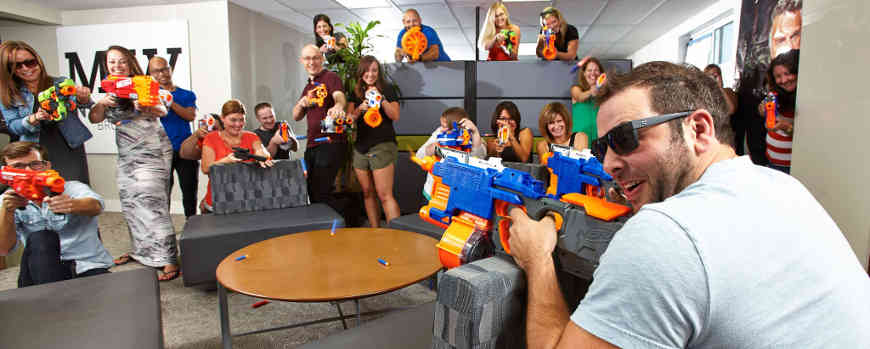 Adam's philosophy, 'Work hard play hard', has served him well and paid off handsomely, attracting the absolute best from inside and outside of our industry to apply for Mitch. And it matters, because they're the ones handling your account.
6. A commitment to do even better
Mitch has grown ten-fold in the past ten years and plans to do the same in the next ten. How will we get there? By upsetting the status quo and not resting on our laurels… We promise to always improve, always learn, always do better. By you, and for you.
Bottom line: we grow our business by making a lot of customers very happy.
We would love to hear your ideas on how we can make insurance not suck.