The COVID-19 pandemic has brought with it a number of negative effects, including of course the physical and emotional toll on families directly affected by the virus. Beyond that, it has wreaked havoc on businesses, and resulted in millions of Canadians facing considerable financial hardship, either because they've been laid off, or possibly because of reduced hours during the pandemic.
In the middle of all of this have emerged a number of feel-good stories of individuals and organizations that have gone above and beyond the call of duty to help those affected. We wanted to add our own small piece to that larger story.
One of the ways that insurance companies are helping their customers during the pandemic is by offering premium relief while Canadians are using their vehicles much less than usual, and in many cases extending coverage beyond the usual time limits for offices and rental properties that are unoccupied because of COVID-19. But in many cases, customers need to call their brokers to get that much-needed relief. That's where our team comes in.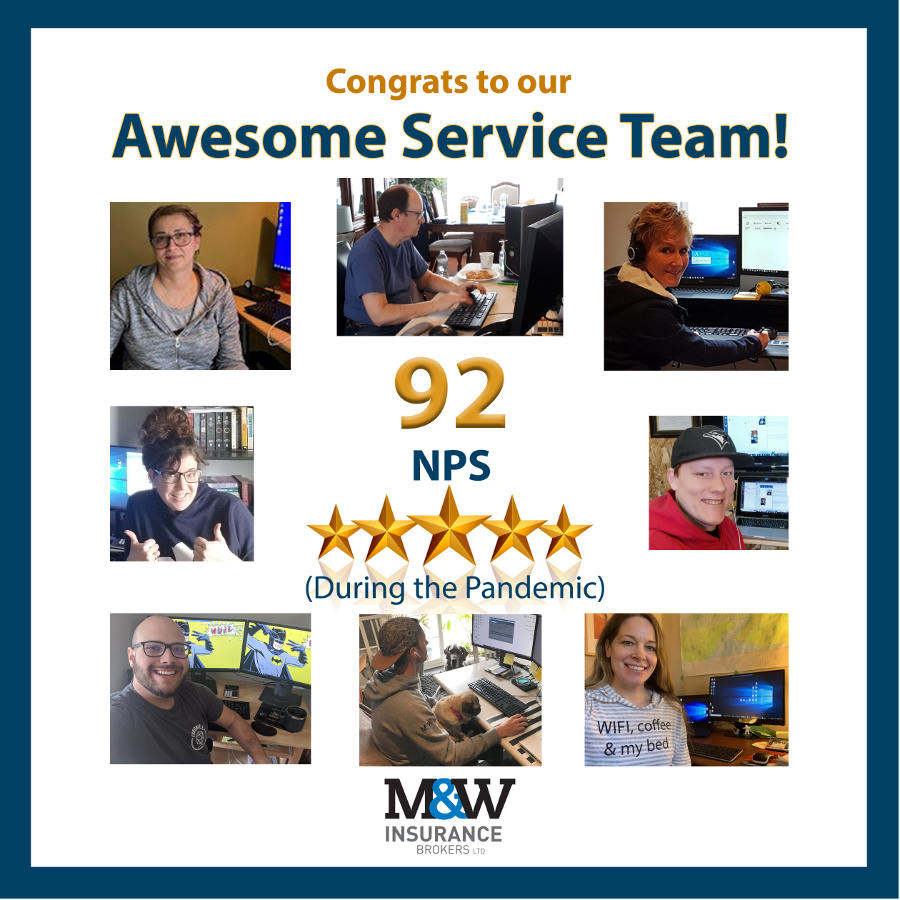 Since the beginning of the crisis, we've been tracking calls and emails to our service team that are directly related to the pandemic. The numbers have gone up and down, but on average 20-30% of our service calls these days have been COVID related. That has meant longer wait times, as our total volume of calls and emails is quite a bit higher than usual.
The good news is that in spite of customer frustration about the pandemic, and in spite of longer wait times, it appears that our customers are getting exceptional customer service from Mitch. In fact, based on customer reviews that are tabulated into something called a Net Promoter Score (NPS), our dedicated team of insurance advisors is delighting our customers…even more than usual.
NPS is calculated on a scale from -100 to 100. Anything above zero means that more customers love you than hate you. In the insurance industry, scores usually range from 20 to 70, with an average of 37. We typically hover between 55 and 75. Since the pandemic started, our NPS has never gone below 80, and it's currently above 90!
We always knew we had the best team in the industry, but they've really been taking it to another level during this crisis. Not only are they handling higher call volumes, they are doing so from home, in many cases while dealing with wonky wifi and screaming children. In the face of all this adversity, they've somehow maintained their composure, and managed to deliver world-class service to our customers when some of them need it most.
We can't say enough just how proud we are of our talented service team. If you're lucky enough to speak with one of them, let them know they're doing a great job!