Things you might not understand about insurance
Insurance is tough to understand at the best of times. When your rates go up, your claim is denied or your insurance company cancels you for what seems like no reason, it can be downright infuriating. Some of it can certainly be insurance companies acting badly, but 99% of things that people think are examples of insurance company greed, dishonesty or dysfunction are actually just the way that insurance works. In many cases, it's mandated by the government.
We do our best to debunk or demystify all those myths and misconceptions here. And there are lots and lots of examples…
1. Buying insurance
Misconception or complaint:
My broker took forever to process my policy, then charged me for 3 months all at once. They are lazy and/or incompetent."
Reality: Finalizing an insurance policy is a complicated process, and at certain times, it might just take that long. Your coverage takes effect right away, regardless of when the payment comes out, and you aren't charged a penalty or interest if the delay isn't your fault.
Whenever you buy insurance, your coverage takes effect right away, but an underwriter then has to review your application to make sure all the information is correct, and the broker or agent quoted you the correct premium. At certain times of year when a lot of people are buying insurance or changing insurance companies, there can be backlogs, and it could take an underwriter a few months to get to your file. Rest easy. Your coverage is in place. In terms of having a larger than usual payment come out, that can be because the company has a policy of withdrawing the first two payments at once and/or because your first payment may be for 2 or more months.
---
Misconception or complaint:
I cancelled my policy mid-year and didn't get as much money back as I deserved."
Reality: Disagreements about the size of refunds are often based on a misunderstanding of how insurance works and/or how payments are broken down through the year.
For most insurance, it is a contract with a duration of one year. If you break the contract in the middle, there can be a penalty, or in most cases you will be refunded based on the following schedule:
Days in
force
% prem.
retained
Days in
force
% prem.
retained
Days in
force
% prem.
retained
Days in
force
% prem.
retained
1-3
8
93-96
32
185-188
56
277-280
80
4-7
9
97-99
33
189-192
57
281-284
81
8-11
10
100-103
34
193-195
58
285-288
82
12-16
11
104-107
35
196-199
59
289-292
83
16-19
12
108-111
36
200-203
60
293-296
84
20-23
13
112-115
37
204-207
61
297-299
85
24-26
14
116-119
38
208-211
62
300-303
86
27-30
15
120-122
39
212-215
63
304-307
87
31-34
16
123-126
40
216-219
64
308-311
88
35-38
17
127-130
41
220-222
65
312-315
89
39-42
18
131-134
42
223-226
66
316-318
90
43-46
19
135-138
43
227-230
67
319-322
91
47-49
20
139-142
44
231-234
68
323-326
92
50-53
21
143-146
45
235-238
69
327-330
93
54-57
22
147-149
46
239-242
70
331-334
94
58-61
23
150-153
47
243-245
71
335-338
95
62-65
24
154-157
48
246-249
72
339-341
96
66-69
25
158-161
49
250-253
73
342-345
97
70-73
26
162-165
50
254-257
74
346-349
98
74-76
27
166-169
51
258-261
75
350-353
99
77-80
28
170-172
52
262-265
76
354-365
100
81-84
29
173-176
53
266-268
77
85-88
30
177-180
54
269-272
78
89-92
31
181-184
55
273-276
79
If the insurance company cancels you, you would typically get what is called a "pro rata" refund, which means you would only pay for the days that you were insured. In other words, if they cancelled you after exactly 10% of one year, you would get exactly 90% of your money back.
If you cancel a motorcycle policy, it's even more confusing, because 90% of your annual premium is used between April and September as per the following table:
| Month | Earned premium |
| --- | --- |
| January | Nil |
| February | Nil |
| March | 5% |
| April | 10% |
| May | 10% |
| June | 20% |
| July | 20% |
| August | 20% |
| September | 10% |
| October | 5% |
| November | Nil |
| December | Nil |
This breakdown reflects the way that people use their bikes in Canada. The problem is that a lot of riders think they can save money by cancelling in the winter, but as you can see from the table above, there is no premium for November to February.
The issue can be further complicated for motorcycle riders because insurance companies usually let you pay your premium in 12 equal monthly installments. So if you got motorcycle insurance on March 1st and try to cancel on November 1st, you've already used all your premium for the year, but you've only paid 2/3 of it so far. You try to cancel, thinking you'll get money back, but what actually happens is you still owe 1/3 of your premium to the insurance company. Seems really unfair, and people can get really angry, but it's just how insurance works.
---
2. Rates
2.1 My rates increased
Misconception or complaint:
My insurance company increased my premium even though I have 30 years clean driving."
Reality: Premiums sometimes go up for all drivers to reflect an overall increase in claims costs.
There are two reasons why your premium could go up. The one that everyone understands is when a driver has a new ticket and/or at-fault accident. That would either change the driver's star rating, trigger a surcharge, or sometimes both.
But based on the insurance company's claims over the past year, they may also notice that their overall premiums need to be increased to keep up with an increasing cost of claims. This can sometimes be jarring if the premium stays the same for 2 or 3 years, then increases by 10 or 15% all at once.
There are a number of factors that can contribute to this kind of increase. In recent years, distracted driving has been on the rise, to the point where some are calling it the new drunk driving.
---
Misconception or complaint:
My rates went up by 20% just because I moved. They are ripping me off"
Reality: Postal code is one of the factors that insurance companies use to determine your auto insurance premium, because years and years of data show that where you live makes a difference in your risk of making a claim.
The fact is that if you moved from say, the GTA, to somewhere like Cornwall, where there are fewer claims, your premium might go down significantly. There are always other factors at play, of course. If you got a ticket in the last year, that might have increased your premium too.
Whenever your premium changes significantly, you can ask why, and if you're not satisfied with the explanation, you can always call a broker and have them get you some competitive quotes from other insurance companies.
---
Misconception or complaint:
Reality: Premiums generally go up, but over the years, there have been periods when the average auto insurance premium in Ontario has been fairly stable for a number of years at a time.
Here is a graph from the Ontario government that shows average auto insurance premiums in Ontario, adjusted for inflation, from 1985 to 2010.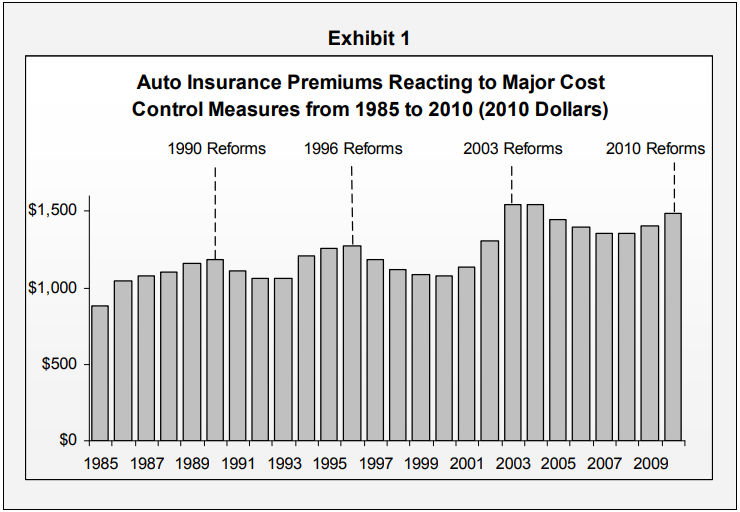 ---
Misconception or complaint:
Premiums go up so that insurance companies can make huge profits"
Reality: Premiums usually go up when claims costs go up. The government approves all rates, and won't allow insurance companies to make more than a modest profit (5-8%) on auto insurance. In fact, insurance companies often lose money on auto insurance.
Insurance companies aim for their claims costs to be a certain percentage of their premiums (somewhere between 60 and 65 percent), so that they can pay all their bills (usually about 30% of premiums) and make a healthy profit. If claims costs go down, the government will insist that it is reflected in the rates that they approve, as seen in the graph below.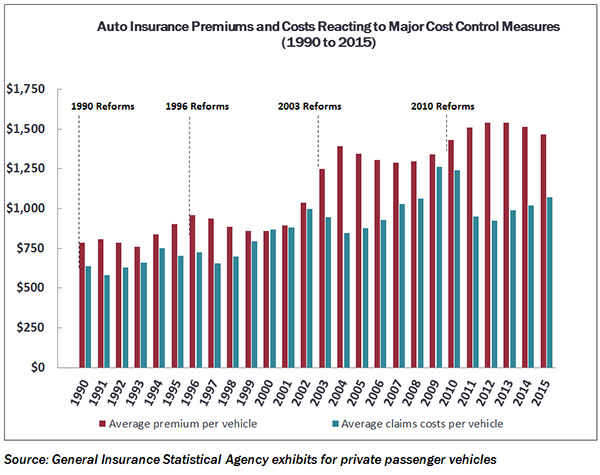 ---
Misconception or complaint:
My premium doesn't match the quote I was given."
Reality: Insurance providers do their best to provide accurate quotes. Misquotes are most often because of simple errors by the applicant, or limitations of online quoting programs.
If the quote you get is different from the final premium you end up paying, it may be because the information you've given your broker is not quite right. Maybe you forgot a ticket you got a few years ago, or you don't remember exactly when you got your license. When the insurance company later verifies this information, the premium can change.
In the case of quotes you get from online quoting sites, these are quite often wrong, because the quoting programs are designed more to be user-friendly than to be accurate. They don't collect all of the detailed information that's needed for an accurate quote. When you call a broker, they have a system they use to generate quotes, and they walk you through the questions. They get special training in how to ask the questions and how to use the system, so they can get you the price that the insurance company will actually charge.
To get the most accurate quotes, avoid online quoting websites, and confirm all of your information before you call a broker for a quote. Here is a link to every question in the quoting software and the application.
---
Misconception or complaint:
Insurance companies charge as much as they want."
Reality: Ontario is a tightly regulated insurance market, especially for auto insurance.
Every company that sells auto insurance in Ontario answers to the Financial Services Regulatory Authority (FSRA). They submit the rates that they would like to charge to FSRA (rate filing), along with detailed claims numbers to support the rate filing. FSRA approves the rates as-is or asks the company to try again, based primarily on two considerations: 1) Fairness to consumers; and 2) Financial stability of the insurer (and ability to continue paying claims).
---
Misconception or complaint:
High risk auto insurance companies make huge profits by charging higher premiums than other companies"
High risk insurance companies actually save you money by offering auto insurance at lower premiums than the insurer of last resort, Facility Association. They don't make huge profits.
Whether a company is targeting high risk drivers or low risk drivers, the regulator has to approve their rates, and does so based on the same factors. Ultimately, the regulator will allow high risk insurers to earn very similar profit margins to lower risk insurers. The reason their premiums are higher is because they insure riskier drivers, and hence pay out more in claims.
---
3. Claims
My claim was denied
Misconception or complaint:
Insurance companies can deny my claim just because they don't want to pay."
Reality: What is covered and what is not covered is all detailed in your policy, which is a contract between you and your insurance company. If there is some question as to whether something is covered or not, insurance companies usually err in favour of the claimant.
Insurance is always intended to protect you against sudden and accidental events. Certain damage or losses that are predictable are almost never covered. For example, if you live on a flood plain, where flooding happens every few years, you are unlikely to be covered if your basement suffers water damage from water that got in from outside the house.
If you read your policy, you'll see two things that can limit your coverage. Exclusions are events that are never covered under your policy. Policy limits are dollar limits that can apply to the entire policy, or to certain types of claims. If you read your policy carefully, it should be clear what is covered and what isn't.
---
My claim isn't what it should be
Misconception or complaint:
My insurance company only gave me half what my car was worth when my car was written off in an accident."
Reality: Your insurance company should estimate the fair value of your vehicle by researching similar vehicles for sale online. If you disagree with their number, you can challenge it.
Fair value for a car that isn't brand new is not always easy to ascertain. One way to estimate is the bluebook value, but nowadays, probably the easiest way is to go online and find 3 or 4 vehicles that are listed for sale and that are comparable to yours in terms of make, model, features and condition. Take an average, and then take 5-10% off, because everyone knows that list prices are almost never the final price.
If you disagree with your insurer on the value of your car, you can challenge the decision with the company's ombudsman. If you still disagree after that, the province has an independent ombudsman, but they won't review your case unless you've already tried the company's ombudsman and/or complaints process first.
---
Other
Misconception or complaint:
My car was still being repaired and the insurance company stopped paying for my rental car."
Reality: A lot of insurance companies now offer coverage for a rental vehicle while your own vehicle is being repaired after an accident. This is an optional coverage, and there is always a time and/or dollar limit to how much the insurer will cover.
It's a common complaint during complicated claims that the rental car coverage runs out before the policyholder gets their own car back from the shop. This can be frustrating, but any limits are always stated clearly in the policy.
---
Misconception or complaint:
Insurance companies drag their heels to avoid paying claims as long as possible."
Reality: Processing times for auto insurance claims are fairly standard. Most delays with auto insurance claims are related to issues with the shop that's doing the repairs. In fact, it's usually in the insurance company's interest to get the claim resolved faster because they often pay for a rental car while your car is in the shop. They also want the work done right so they don't have to pay to get it done again.
For an auto insurance claim, the insurance company might take a day or two to gather information, a day to inspect the vehicle and a day to approve repairs. Then 5 minutes to write a cheque to a repair shop and another 5 minutes to write a cheque to a car rental company. Maximum 4 days total. If your car is a total loss (write-off), it might take a week to decide on a fair settlement and write a cheque. If there is some question as to whether it is a total loss or not, or if your vehicle is a rare model, that can lead to longer delays.
Delays from the customer perspective are usually related to how busy the shop is (how many cars are ahead of yours?), whether the parts needed for your repair are in stock? On back order? Need to be shipped from Germany? Also, there are sometimes delays once the work starts, because when the repair shop starts doing the work, they could uncover additional damage or additional parts that are needed. None of this has anything to do with the insurance company.
---
4. Cancellations
Misconception or complaint:
Insurance companies look for any excuse to cancel you."
Reality: Insurance companies need customers to make money. They won't cancel you for no reason. If your insurance company cancels you, it's because you no longer meet what they call their underwriting criteria, which means you're not the kind of customer they want.
Every insurance company is looking for certain kinds of customers, and they may cancel you if you no longer fit that mold. A few reasons why you might be cancelled: 1) Any company will cancel you if you don't pay your premiums, or if you lie on your application; 2) Some companies will cancel you if have more than a few tickets or at-fault accidents; 3) Other companies that prefer higher-risk customers might actually cancel you because your driving record is too good. In this case, getting cancelled could save you money. If you get cancelled for misrepresentation (lying) or non-payment, it will cost you more in the long run.
---
Misconception or complaint:
My insurance company cancelled me because my home/car/motorcycle was too old. Sounds like an excuse."
Reality: When you no longer fit an insurer's underwriting criteria – meaning the kind of customers they want – they may cancel you, but another insurer will probably want your business. It may be more expensive, but not always.
Every insurance company specializes in a particular kind of customer/home/vehicle/business. Some companies want drivers over 50. Some want century homes. Some want anything but. If you're with an insurance company that doesn't want any cars older than 20 years old and your car turns 20, it makes sense that they won't want to insure you anymore, even if you've been a good customer for 10 years. It's not personal. If you traded that car in for a newer model, your insurer would likely be happy to continue the relationship.
In this sense, insurance is unlike anything else you buy. Because the insurance company is taking on risk related to you and your belongings, they reserve the right to control their level of risk by using these underwriting criteria that are based on past claims.
---
Misconception or complaint:
My home insurance company cancelled me after I made a claim. So basically, insurance companies just want your money. They don't want to pay claims."
Reality: Insurance companies don't cancel customers as some kind of punishment for making a claim. They cancel you because you no longer meet their underwriting criteria – meaning the kind of customers they want.
Every insurance company has criteria they use to determine whether they want to insure someone or not. This can include the age of your house, the kind of wiring, or dozens of other factors. Years of claims data have proven that these factors increase the chances of you making future claims. Similarly, most home insurance companies would have criteria related to claims. Perhaps they don't want any customers who make more than two claims in a five-year period. Not because of the claims themselves, but because the past claims statistically increase the risk of future claims.
---
Misconception or complaint:
My insurance company has no loyalty. I was a good customer for 20 years and they cancelled me."
Reality: Loyalty does not apply to insurance in the way that it applies to most other businesses.
If you sell hats, you probably feel a certain loyalty to your customers. If a customer has bought 10 hats from you, you may give them a great deal on their 11th hat. Even if you make zero profit on the 11th hat, there's no big risk.
Insurance companies can't afford to be loyal in the same way, because if they are loyal to a customer that is at high risk of having a big claim, that could cost the company ten times as much as all the premiums the customer has ever paid or will ever pay. Insurers have underwriting criteria that they use to determine when a customer is too high risk. That could mean they won't accept you as a new customer, or that they will cancel or non-renew you after 20 years. It really has nothing to do with loyalty.
But this cuts both ways too. As a customer, especially with auto insurance, where every company is selling the same product, you may be somewhat loyal to your current insurance company if they've provided good service, but for most people who haven't made claims, you typically will go with the best price. To that end, perhaps your loyalty should be to your broker, who hopefully offers you awesome service like Mitch, and ideally has access to a lot of different insurers, so if your insurer cancels you or increases your premium, they can find you attractive alternatives.
---
5. No-fault insurance
Misconception or complaint:
Ontario has no-fault insurance, so it doesn't matter if I'm at-fault for an accident."
Reality: It 100% matters if you're at-fault or not in a car accident. Ontario's auto insurance system is called a no-fault system because your insurance company always pays for your losses.
The other type of auto insurance system is called a tort system, where the insurance company for the at-fault driver would pay for the losses of everyone involved in an accident.
As for whether fault matters, in Ontario, your insurance company is not allowed to charge you more for a non at-fault accident. If you are at-fault, however, they can use that to increase your premium, or in some cases cancel your policy.
---
Misconception or complaint:
My insurance company can say I'm at-fault for an accident even if I wasn't, so they can charge me more."
Reality: In Ontario, the decision of who was at-fault for an accident is governed by detailed fault determination rules made by the provincial government, and available publicly.
Whenever there is an auto insurance claim, the claims adjuster will look at all of the information that is available, and assign 100% fault to one driver, or partial fault to multiple drivers, all according to the fault determination rules. If you are in a single-vehicle accident, you are automatically 100% at-fault.
In cases where the police came to the scene, or where all the drivers went to a collision reporting centre, it's easier to determine fault. If the other driver reported the accident but you did not, it's very possible that they could tell a version of the story where you were at fault. If you don't present your side of the story, the adjuster will probably accept the other driver's story as fact. So, if you know the accident wasn't your fault, it's worth your while to make sure to document everything you can at the scene, ask for witnesses' contact information etc.
If you discover that you were found at-fault for an accident and you want to dispute it, you can do so by contacting your insurance company's ombudsman. If you are not satisfied with their final decision, you can ask the provincial ombudsman to review the case for you.
---
Misconception or complaint:
I got in a very minor at-fault accident and my rate went way up. It's not fair."
Reality: The fact is that insurance can't be 100% fair. If everyone's premium was directly related to the cost of their own at-fault accidents, then drivers who have never crashed would pay nothing, and drivers responsible for an accident that cost $100,000 or $1 million would never be able to get insurance again, or would pay thousands of dollars a month. That's not insurance. That's everyone paying for their own losses.
The way that insurers try to make premiums as fair as possible is to rate drivers based on how many consecutive claims-free years they've had. One at-fault accident resets your rating from a 3 star or 6 star rating to a zero star rating, and could double or triple what you pay. It doesn't matter if the accident cost the insurer nothing or if it cost them $1 million. It's not perfect, but it's the only way to make sure everyone has insurance and premiums are able to cover claims costs. When your claim is minor, it seems unfair, but when you have an $8,000 claim, your premium probably won't go up by $8,000 either.
---
6. Service
Misconception or complaint:
I called my insurance company/broker and nobody picks up the phone. It took them more than a week to get back to me. They don't care about their customers."
Reality: Insurance is a cyclical business. There are certain times of year when call and email volumes spike, and no broker or insurance company will be able to increase staffing levels quickly enough to keep up.
Unlike retail, where stores can hire seasonal staff leading up to Christmas when they are busier, the people who help you with your insurance needs are highly trained professionals, licensed by the province based on their knowledge and expertise. When the insurance industry has periods of higher call volumes, there will always be long waits on the phone, and there will always be a lag of several days or more when you leave a message. It's not that the broker doesn't care. They are helping someone else.