While wood burning stoves have become safer and more environmentally friendly, they still provide enough of a fire hazard to put upward pressure on insurance premiums (about 10%). That's if your stove is properly installed and inspected. A wood stove that's not installed to code could render your cottage uninsurable.
What is cottage nightlife, after all, without the smell of burning wood? Efficiency be damned, you say, when it comes to sprucing up your little cabin with a fireplace or, more specifically, a quaint little wood burning stove. They look great, they provide hours of simple pleasures and sticky treats, and they help bring you that much closer to nature in its purest form.
Still, there's the question of just how much these cozy contraptions affect your cottage insurance, and just what you have to do to make sure they are safe and up to code.
Will a wood burning stove increase my premiums?
Few people are likely shocked to learn that having an open flame burning for hours each night inside your cottage is going to heat up your premiums as well. That's not to say that modern wood burning stoves are inherently unsafe, or that getting one is a bad idea, because a lot of pleasure can be gained by having one when it's been installed and used correctly.
But even if you consider yourself extremely safety conscious and a stickler for detail with a lifetime of experience around open flames, the simple truth is that some people are less safe than others.
Expect your premiums to rise from 10% to a set amount of about $100 or more.
When insurance companies calculate risks, they tend to base the price of premiums on the broadest set of data they have, as well as the amount of claims they have paid out over recent years. Since not everyone is as careful as they should be around fire, we all end up having to pay more for coverage.
Costs will vary from company to company, and will depend on the type of wood burning unit you have and whether or not it is the main heating source for your cottage, but expect your premiums to rise from 10% to a set amount of about $100 or more.



What is Wood Energy Technology Transfer (WETT) certification?
Whether you are installing a new wood burning stove, having it installed professionally or buying a cottage that already has one, your insurance broker may require you to get it inspected and certified by a WETT technician or complete a solid fuel heating questionnaire and send photos of the stove.
This is not solely for the purpose of protecting your cottage. It is also protecting your family's health since an incorrectly installed wood stove can release harmful pollutants that can make you and your loved ones more prone to respiratory diseases.
The requirements for WETT certification are as follows:
Floor protection – ensuring the floor is protected from the stove's intense heat, as well as sparks and embers.
Clearance – ensuring the space around the stove meets all guidelines regarding how far the unit needs to be from any combustible materials
Location – ensuring the unit is not installed in an inherently dangerous spot
Chimney – ensuring it is clean and up to code
Flue pipes – ensuring they are clean, up to code and installed correctly
What can I do to make sure my wood burning stove is ready for certification?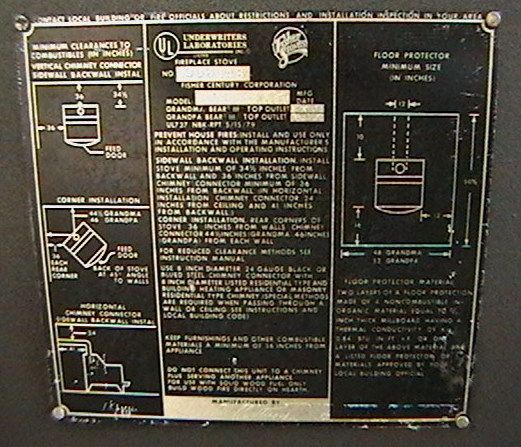 Floor protection: Get a floor pad to provide protection from sparks and embers shooting out of the stove and onto the floor. It should be made with a durable, fire-proof material and extend 18 inches from any side with a door and 8 inches on all other sides. You will also be required to have a glass or mesh screen on the unit's door.
Clearance: Make sure you have a clean and open space around the stove. Check the ULC plate on the back of the unit to find information on how far flammable objects should be kept away.



Quick tip

Safety codes allow for reduced clearances from the manufacturer's requirements as long as shielding is properly installed and acceptable materials, such as sheet metal, Durock, ceramic, brick and concrete, are used.
Location: Make sure you aren't installing the stove near anything dangerous, such as an oil tank. Also be sure to do your wood chopping and other such activities outside, away from the unit so as to avoid chips and bits being scattered around.
Chimney: Your chimney must be made of metal, have a tight-fitting weather cap and be enclosed if it passes through a living space upstairs. Your chimney should be cleaned annually.



Quick tip

Never burn wet or "green" wood in your stove as this will lead to more creosote build up. It's best to store wood for about two years before burning. If you buy wood, make sure it's been dried properly. Ideally, stove wood has a moisture content of around 15%.
Flue pipe: Make sure there is proper clearance between the flue pipe and potential combustibles. This is usually over 18 inches, but it can be reduced with proper shielding. Galvanised flue pipe is not permitted, nor are flue pipes allowed to pass through a ceiling or floor.
IMPORTANT!
If you have installed a wood burning stove yourself, be sure to inform your insurance company at once. Otherwise, you may not be covered if your cottage burns down.
And finally…
If you are considering purchasing an older cottage with a wood burning stove already installed or have plans to install one after you take over the deed, consult Mitch Insurance to see what kind of upgrades or changes may be needed before you can obtain coverage.
After all, you may want to factor those changes into your offer before you buy.
Call Mitch today at 1-800-731-2228 and let us help you get a good fire going safely in the comfort of your little cabin in the woods.
Special thanks to Shane Rosenberg, account manager at Mitch, for his help on this article.