Recently, at the 2019 IBAO Awards, Adam Mitchell was recognized as Young Broker of the Year for Ontario.
This personal accomplishment follows a string of team accomplishments for Mitch that includes being named to the Growth500 list of Canada's fastest-growing businesses, and of course winning 2018 Brokerage of the Year.
As President of one of the fastest-growing businesses in the country, it's sometimes hard to think of Adam as a young broker. After all, he's been running Mitch for more than ten years now, and in that time, he's grown the business more than tenfold, using a combination of leading edge technology and a dynamic team that he keeps motivated with the most fun workplace in the GTA.
At the ripe old age of 35, Adam himself says he feels more like an old-timer than a rookie most of the time, but he's never lost his youthful energy, perennial sense of play, passion for innovation, or enthusiasm for the future. And these are the elements that ultimately make him super-deserving of the Young Broker title.
As we did when Mitch won Brokerage of the Year in 2018, we sat down with Adam to discuss this latest accomplishment and get an update on where the business is headed in the coming year.
---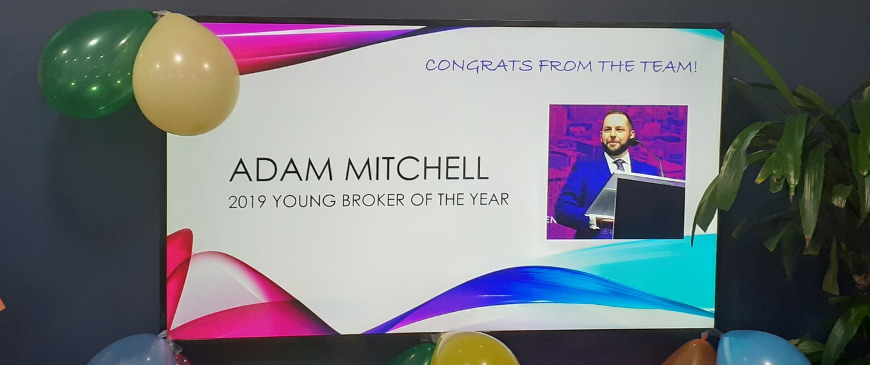 ---
Mitch

How does this win compare to brokerage of the year? Is it better or worse because it's an individual award?

Adam

That's the thing, I don't really think of it as an individual award at all. The criteria for winning young broker are all about how you inspire others to try new things, set high standards for customer service, and contribute to helping the business succeed. That all depends on us succeeding as a team. Great teams reflect positively on all members of the team. They make me look good.

Mitch

Do you still feel like a young broker?

Adam

I do most of the time. But it's funny, because I didn't know my team was nominating me, and I'm not sure I would've thought to apply myself. But I'm just as excited today about building the team and trying new things as I was ten years ago, so yeah, I guess I do still feel like a young broker. A little less hair up top and a maybe a few extra pounds, but I'm definitely young at heart.

Mitch

Mitch's mission is to make insurance not suck. With recent rate increases and some insurance companies trying to avoid certain kinds of customers, how hard is it to stick to the mission? Is it making you go grey before your time? (You see how we tied it back into being young?)

Adam

Yeah, I see what you did there. I've made a pact with my hair follicles. Whenever they're thinking of going grey, they've agreed to just fall out instead. It's a good compromise. As for the tough market conditions, we understand that as brokers, we don't control all of the factors that could make insurance suck for our customers. We also know that it's tough to keep your customers happy when their rates are rising. That said, our team does a great job of explaining rate increases to our customers, giving tips for how to keep premiums down, and of course offering quotes from 40+ insurance companies. Just because rates are going up overall, doesn't mean you can't find a good deal out there, and we give you a better chance of finding that deal. We think that's why we keep growing while a lot of brokerages are just trying to survive.

Mitch

Everybody knows that your office is like a playground, complete with putting green, hoverboards, nerf guns fights and all kinds of games. Is that a reflection of your youthful spirit?

Adam

Maybe. I like the games, but mostly I just want everybody to be comfortable and relaxed at work. We also have no dress code and lots of celebrations. We work really hard, but we also know how to relax and have fun. If you're at home and you're doing your spring cleaning, every once in a while you can take a 20-minute break and play Call of Duty. We give our team the same opportunity to take a mental break when they need it, and we know that's reflected in a more positive disposition when they talk to a client.

Mitch

We heard that the team decorated your office to congratulate you for the big win. Given your focus on team, how much does that mean to you?

Adam

It means everything. We do a lot of that kind of thing. We always make sure that every significant milestone is recognized, whether it's personal or professional, so I'm not surprised. The team supports one another in everything we do. A week later I still had balloons floating around my office. It was great!

Mitch

It seems that every year, you turn up to the IBAO Awards with no pants on. Is wearing shorts and flip-flops your way of projecting youthful energy?

Adam

Not really. I just like to be comfortable, and shorts and flip-flops have kinda become my thing, I guess. With no dress code, a lot of people wear flip-flops at the office. For the record, I'm always totally formal from the waist up.

Mitch

You're eligible for Young Broker of the Year until you turn 40. Do you think you'll win it again?

Adam

That's hard to say. Usually you have to apply for this kind of award, so next year when IBAO calls for nominations, we'll see what the criteria are and whether we think we meet them. Maybe we nominate one of our other brokers. We have some pretty exceptional people on the team that would be very deserving. As for me, let's see how my hairline does over the next year…
Young Broker of the Year recognizes a broker who is young, yes, but also one who is helping to attract the next generation of young innovators to the industry. In that sense, Adam Mitchell is the perfect choice, as he certainly embodies the qualities that our younger workforce values the most. He believes in challenging the status quo, putting substance over style and giving back to the community. He's also created the ultimate modern workplace, where you wear what feels comfortable, you never hear the word "boss", and every perspective is valued.
As always, Adam gives all credit to the team, and proposes that we call the award Young Brokerage of the Year.